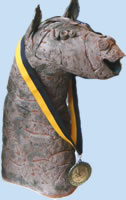 "Laughing Pony"
1st Place Prize
at the Guild of Creative Art
My work is heavily influenced by my life in Hawaii, my lifelong passion for horses and my experiences in the performing arts. For me, art is a visual performance. As an artist, I encourage a dialogue between the piece and myself. This translates into a "no boundaries" use of materials, resulting in some surprising mixed media combinations. I use found objects, clay, metal and glass separately and in combination with 2-D water media pieces.
I often work in series and one can see the progression as one series suggests another, while still showing continuity in stylistic elements from early pieces to the present, regardless of medium. I began as a 3D artist and am most comfortable working in clay and metals.
My work in clay continues exploring my relationship with horses and the sea. Hand-built vessels, sculptures and wall pieces are highly textured and often reminiscent of tropical beaches and sea life. The same can be said of my work in silver and other metals. My "wearable art" has a sculptural quality of line that World Trade Center architect Minoru Yamasaki admired and encouraged when I was studying traditional jewelry fabrication.