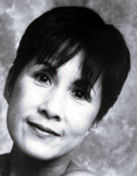 A native of Honolulu, HI, Mare Akana is a visual and performing artist. Her award winning artwork is in private collections in Peru, HI, CA, OR, NV, FL and the Tri-State area, including the personal collection of renowned artist Louise Bourgeois.
A popular demo artist, she has conducted workshops for Brookdale College, The Monmouth County Parks System and art organizations in NJ and HI. Her sculpture "Laughing Pony" won first place in the Guild of Creative Art's 2010 Annual Open Juried Show where she is an Exhibiting member. She has been the coordinator for Long Branch's annual Art in the Park event since 2007 and is available as a consultant to those who wish to organize new art shows or upgrade existing ones.
Ms. Akana holds a BA from Syracuse University and has studied with John Marshall, Lee DuSell, Gerald Brommer, Louis Mendez, Christine Merriman and Mark Walnock.